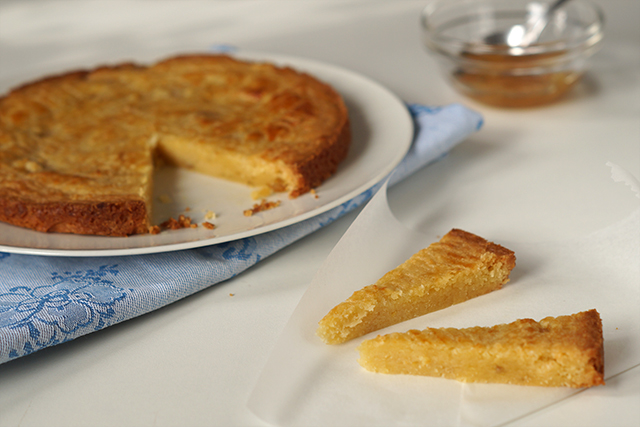 Equipment: spring form pan (20 cm diameter), baking paper. Hands on time: 20 min. Total time including cooling: 4-5 hours. Instruction video below.
Ingredients
125 g flour
75 g white muscovado sugar (witte basterdsuiker)
pinch of salt
100 g butter
1 egg yolk
optional: 50 g sliced ginger in syrup (bakgember)
optional: 1 egg slightly beaten
Directions
Stir the flour, sugar and salt together in a bowl.
Add the butter, egg yolk and ginger (if using) to the bowl.
Knead everything together in the bowl until it forms a dough.
Wrap the dough in cling film and place it in the fridge for 2 hours.
Grease a 20 cm diameter spring form pan and line the bottom with baking paper.
Preheat you oven to 180 C.
Take your dough out of the fridge and remove the cling film.
Start patting the dough down in you spring form pan until it is evenly spread over the bottom of the pan.
You can bake the cake like this or decorate it a little by brushing a bit of the beaten egg all over the top. This will make the cake brown and slightly glossy when baked. Take a fork and run it across the top in a checkerboard pattern.
Bake the cake in the preheated oven for 15 to 20 minutes. The top should be golden brown, but the cake will still be soft in the centre. It will firm up as it cools.
When it has completely cooled, slice and enjoy!
Variation: When not using the ginger, the boterkoek is usually decorated with almonds on top.