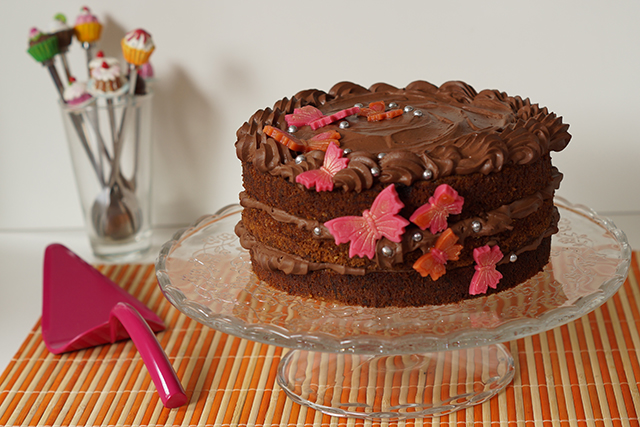 This cake is nice and moist on its own and doesn't really need any frosting. But well, if you can add chocolate, why not? Ganache is normally quite dense. In this recipe I added more cream and whipped it such that you will have an airy light kind of chocolate cream. It still firms up quite well such that decorations will hold.
Total time from start to finish: 5 hours (including cooling and assembling). It is best to bake the cakes the night before, because they will be firmer and not crumble as much. Equipment: 2 springform pans (18 cm diameter), electric mixer for the frosting. Note: if you have only one springform pan you can just bake it in two batches.
Start by baking the cakes.
Ingredients
300 g flour
1.5 teaspoon baking powder
pinch of salt
300 g sugar
100 g brown muscovado sugar
270 g oil
4 eggs
450 g grated carrots (about 5 large carrots)
Directions
Preheat your oven to 175 C and oil your springform pans and line the bottom with baking paper.
In a bowl combine the flour, baking powder, salt and stir it together.
In the bowl of a mixer combine the sugar, muscovado sugar, oil and the eggs. Best until well combined and the mixture is a bit fluffy.
Add the flour mixture to the mixing bowl and mix on slow speed until incorporated.
Add the grated carrots and stir until well combined.
Put 2/3 of the mixture in one springform pan and the remaining 1/3 in the other. Bake for 45 to 55 minutes or until a skewer inserted in the centre comes out clean.
Let cool completely.
Prepare the whipped ganache frosting and filling.
Ingredients
200 g chocolate
400 g cream or soy cooking cream for a lactose free version.
Directions
Break or cut the chocolate into small pieces and put in a heat proof bowl.
Heat the cream on medium heat until almost simmering.
Pour the hot cream over the chocolate and let this sit for a couple of minutes.
Stir the mixture until the chocolate and cream are completely combined.
Let the mixture cool for 1.5 to 2 hours. You can speed this up by putting the bowl in cold water.
When the mixture is thick but still soft enough to beat get your mixer and beat until light and fluffy (about 5 minutes).
When it seems a bit soft you can put the ganache back in the fridge to let it firm up a bit more before frosting. Otherwise you can use it straight away.
Assemble the cake.
Cut the top off both cakes such that they are level. Cut the larger cake in half such that you have three layers.
Start with your first layer and spread some frosting on top. Stack on the second layer and frost again.
Add the final layer. You can just spread the frosting with a spoon on top or if you want to take your decoration act a bit further, transfer the frosting to a piping bag and pipe a decorative boarder.
For decorations I used a butterfly cutter to cut the butterflies out of some marzipan. I attached them to the side of the cake using small toothpicks.
Let's celebrate with cake!