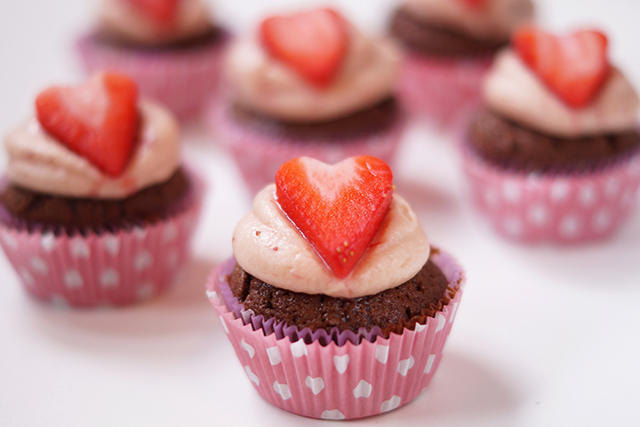 Makes 12 cupcakes. Hands on time: 45 minutes.  Total time (including cooling): 2,5 hours. Equipment: Mixer, cupcake pan, cupcake liners. Optional: piping bag, small heart shaped cookie cutter. Video below.
Ingredients
for the cupcakes:
140 g flour
20 g cacao powder
1 teaspoon baking powder
pinch of salt
90 g butter (at room temperature)
160 g sugar
2 eggs
100 ml milk
2 tablespoons vinegar
for the frosting:
100 g butter (at room temperature)
100 g cream cheese
2 tablespoons strawberry jam
200 g powdered sugar
for decorating:
A couple of fresh strawberries
Directions
First prepare the cupcakes and give them plenty of time to cool before decorating (at least 1 hour).
Pre-heat your oven to 170 C.
In a bowl combine the flour, cacao powder, baking powder and salt. Stir until thoroughly combined.
Add the butter and sugar to your mixing bowl. Take your mixer and mix until soft and fluffy.
Add 1 egg and mix until fully incorporated. Add the second egg and mix again until incorporated.
Stir the vinegar into the milk. It might curdle, this is fine.
Go back to your butter-egg mixture and add half of your flour mixture. Mix until everything is moistened before adding half of the milk-vinegar mixture. Repeat with the second half of the flour mixture followed by the second half of the milk mixture.
Line the cupcake pan with cupcake liners. Spoon the batter into the cupcake pan. Each cupcake mold should be filled to about 2/3.
Place the filled cupcake pan into the pre-heated oven for 20-25 minutes. After 20 minutes test whether the cupcakes are done by inserting a skewer into the centre of one of the cupcakes. If it comes out clean they are done. If it has batter sticking to it, keep on baking and testing every couple of minutes.
While the cupcakes are cooling down, proceed with the frosting.
Place the butter and cream cheese in a mixing bowl. Mix until well combined and light and fluffy.
Add the strawberry jam to your mixing bowl and mix until combined with the butter and cream cheese.
Add the powdered sugar to the other ingredients and mix first on low speed. Gradually increase the speed until the powdered sugar in completely dissolved into the mixture.
Your frosting is done! If it is a bit on the soft side you can place it in the fridge to firm up a little.
When your cupcakes have cooled completely: decorate! (instructions in video below)
Spoon or pipe a dollop of frosting onto each cupcake.
Cut a couple of large strawberries into slices.
Use your heart shaped cookie cutter to cut hearts out of the strawberry slices.
Place a strawberry heart on each cupcake.
Your cupcakes are completely finished!