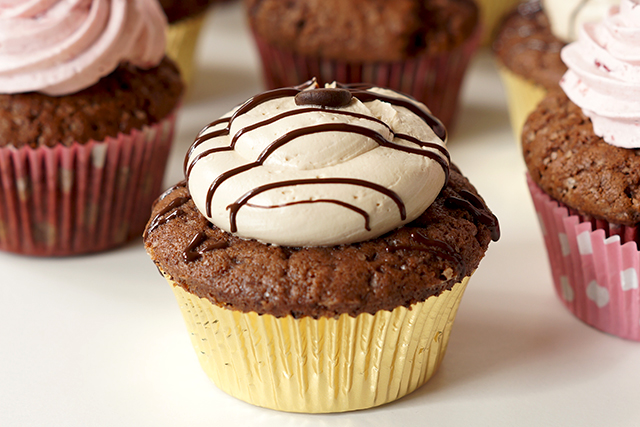 These cupcakes are soft and slightly chocolaty. The cake is good, but the frosting takes it to the next level. This coffee flavoured buttercream is light and fluffy. Oh, and it has coffee! So you can't go wrong with that. Note: if you eat all the leftover coffee buttercream straight from the bowl it will leave you very hyper. Caffeine + sugar = 1up.
Makes 10 to 12 cupcakes. Total time (including cooling): 2 hours. Equipment: Electric mixer, cupcake pan, cupcake liners.
Ingredients
for the cupcakes
90 g butter (at room temperature)
160 g sugar
1 egg
180 g flour
1 teaspoon baking powder
pinch of salt
1 teaspoon cacao powder
150 ml milk
1 tablespoon vinegar
for the frosting
for decorations (optional)
A couple of squares dark chocolate
Coffee beans (10 to 12)
Directions
Start by preparing the cupcakes.
Preheat your oven to 160 C.
Place the butter and sugar in a mixing bowl and beat until light and fluffy.
Add the egg to the mixing bowl and mix until well combined.
In a separate bowl combine the flour, baking powder, salt and cacao powder.
In a cup measure combine the milk and vinegar.
Add half of the flour mixture to the butter mixture and mix until incorporated. Add half of the milk, mix, add the second half of the flour, mix and finally mix in the rest of the milk.
Line a cupcake pan with cupcake liners and scoop the batter into the cups. Fill each cup until about 2/3 full.
Bake for 20 to 25 minutes, or until a skewer inserted in the centre comes out clean.
Let cool completely.
Prepare 1 batch of espresso flavoured butter cream. Recipe can be found here.
Assemble the cupcakes
Scoop or pipe the buttercream onto the cupcakes.
Drizzle with melted dark chocolate.
Put a coffee bean on each cupcake.
Finished!