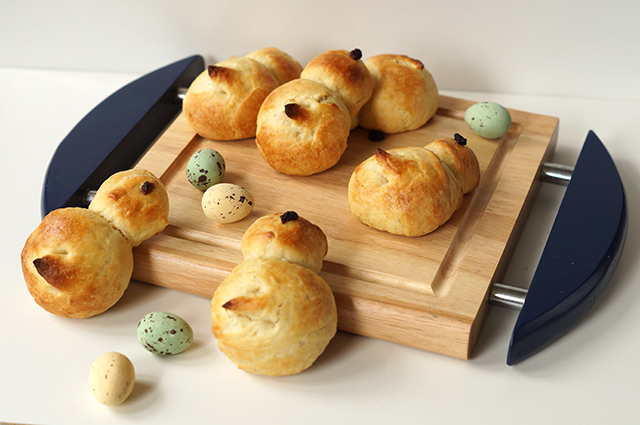 These chicks are made out of soft sweet bread.
Make about 9 chicks (depending on the size of course). Total time: 3 hours.
Ingredients
125 ml milk
1 teaspoon dried yeast
400 g flour
75 g sugar
1 teaspoon salt
100 g butter
1 egg
Directions
Add the yeast to the milk and let it sit for a couple of minutes to dissolve.
In a mixing bowl combine the flour, sugar, salt, butter and the egg.
Add the milk-yeast mixture to the rest of the ingredients and stir it together. When everything is combined start kneading until you have an elastic dough.
Transfer the dough to a greased bowl and cover with cling film. Let sit in a warm spot until doubled in volume(1 to 2 hours).
Divide the dough in the small portions. Make a large ball for the body of the chick and a smaller ball for its head. Pinch the dough to for a little beak. Repeat until all the dough is finished. Place all chicks on a baking tray lined with baking paper.
Let rise for another half hour in a warm place.
Preheat your oven to 200 C. Place a small heat proof bowl with hot water in the oven.
Put the chicks in the oven and bake for 15 to 20 minutes.
Let cool and happy Easter!