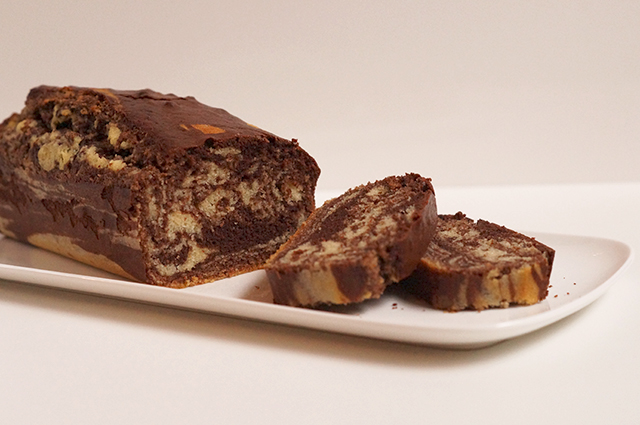 Makes 1 loaf shaped cake. Preparation time: 20 min. Baking time: 40 to 50 min. Equipment: (Handheld) Mixer, cake pan. Step-by-step instruction video below.
Ingredients
25 g cacao powder
3 tablespoons hot water
100 g butter (at room temperature)
200 g sugar
3 eggs (at room temperature)
250 g flour
1 teaspoon salt
2 teaspoons baking powder
150 ml milk
Directions
Pre-heat your oven to 170 C.
Prepare your cake pan by greasing it with oil or butter. Line the pan with a piece of baking paper. This way you can be sure the cake will come out of the pan in one piece.
Add the hot water to the cacao powder and stir until you have a thick chocolate paste. Set aside to cool.
Place the butter and the sugar in a mixing bowl. Mix until creamy and smooth. The goal is to start dissolving the sugar into the butter. This will take a couple of minutes.
Add the first egg to the butter-sugar mixture and mix until fully incorporated. Repeat with the second and third egg.
Stir the salt and baking powder into the flour.
Mix half of the flour into the butter-egg mixture. When all flour is moistened, add half of the milk. When the milk is incorporated stir in the rest of the flour. Finally stir in the rest of the milk.
Divide the batter equally over two bowls.
Remember the cacao paste from step 2? Add it to one of the bowls of batter and stir until you have a chocolate batter.
Grab your prepared cake pan. Scoop two tablespoons of the chocolate batter into the centre of the pan. Scoop two tablespoons of the other batter on top of the chocolate batter in the cake pan. Keep alternating between the two batters until all batter is finished (see video below).
Place the filled cake pan in your pre-heated oven and bake for 40 to 50 minutes. The baking time will vary depending on your oven and on the cake pan.
After 40 minutes stick a skewer into the centre of the cake. If it comes out clean the cake is done. If it has batter sticking to it continue baking and check with your skewer every 5 minutes.
Et voila!