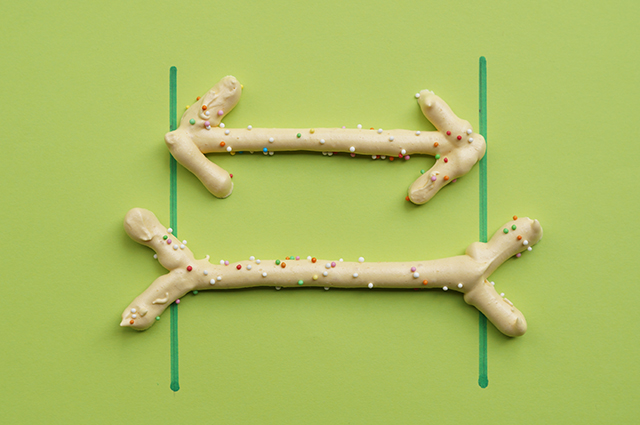 It's a visual illusion cookie! Both are equally long. The fins added to the end make the top shape appear shorter than the bottom one. After rigorous testing though, I have come to the conclusion that they taste the same. Of course these meringues can be shaped anyway you like. But I wouldn't miss the opportunity to shape a cookie like a visual illusion. Especially if you can add sprinkles.
They can also be cute in other shapes. Meringue doughnut anyone?
Total time: 2 hours. Equipment: electric mixer, piping bag, printed Mueller-Lyer template for ML_short and ML_long illusions.
Makes about 20 Mueller-Lyer cookies (10 long and 10 short) and probably some extra.
Ingredients
2 egg whites
50 g granulated sugar
100 g powdered sugar
food colouring (optional, I added one sachet of powdered colouring)
Sprinkles (optional)
Directions
Preheat your oven to 80 C.
Place the egg whites in a mixing bowl and start beating until frothy.
Add the granulated sugar (and food colouring if using) and beat until stiff peaks form.
Whit a spatula gently fold in the powdered sugar.
Transfer the egg whites to a piping bag with a small piping tip.
Place a piece of baking paper on a baking tray and place the template underneath.
Pipe the egg whites onto the template.
Repeat steps 6 and 7 until all the egg white mixture is finished.
Sprinkle the sprinkles on top and bake for about 1.5 hours until the meringues have dried completely.
Let cool and enjoy!