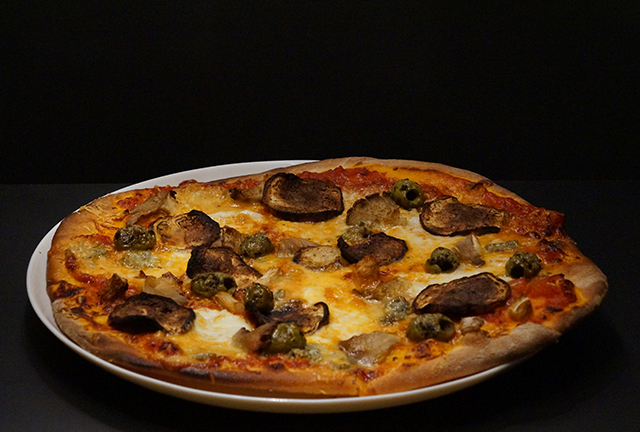 Makes two large pizza's with a thin crust. Preparation time: 30 minutes. Rising time: 1 hour. Baking time: 10 minutes. Instruction video below.
Ingredients
200 ml lukewarm water
1 teaspoon instant dried yeast
300 g pizza flour (typo 00)
1 tablespoon sugar
1 teaspoon salt
1 tablespoon olive oil + extra to oil the bowl
Directions
Dissolve the yeast into the water. This might take a couple of minutes so continue with step 2.
Combine the flour, salt and sugar.
Add the yeast-water mixture to the dry ingredients as well as the oil.
Knead everything into an elastic dough. It will form a smooth elastic ball, but still feels sticky. In a stand mixer this will take about 10 minutes. If kneading by hand it will take about 20 minutes. Resist the urge to add lots of extra flour.
Transfer the dough to an oiled bowl and cover with plastic wrap.
Let the dough rise in a warm spot. It should double in volume (in about 1 hour). If it doubles before you are ready to use it you can store in the fridge until you are ready to bake your pizza's.
When you are ready to bake your pizza's, pre-heat your oven to 250 C (if possible, otherwise just put your oven on maximum heat). Put an oven stone into your oven if you have one.
Turn the the dough out onto a floured surface and divide it into two pieces.
Start rolling out the first piece to the desired size. When rolled out, I like to transfer it to an oven tray with a sheet of baking paper on it.
Add your toppings.
Slide your pizza into your oven. I transfer mine with the baking paper to the heated oven stone.
Bake for 10 minutes or until the cheese is bubbling and the edges have browned. It might take shorter or longer depending on your oven temperature so keep your eye on it.
Pizza is ready! Now repeat with your second piece of dough.