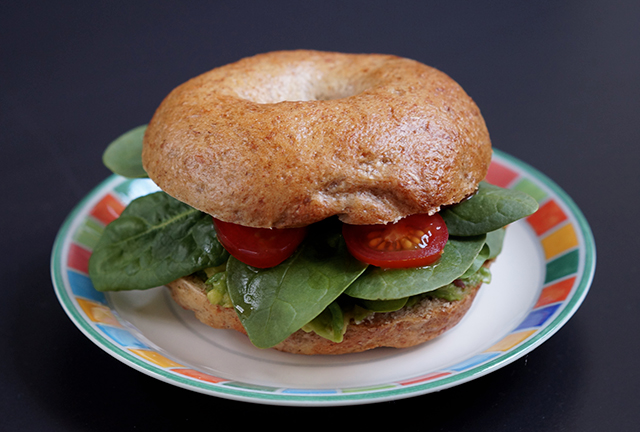 Makes 6Â  bagels. Can be started the night before. It is really not difficult, see the video below for step-by-step instructions.
Ingredients
250 ml lukewarm water
1/2 teaspoon instant dry yeast
280 g wheat flour
120 g rye flour
1 1/2 tablespoon sugar
1/2 teaspoon salt
optional: sesame seeds, poppy seeds, course salt
Directions
Mix the instant yeast into the water and let is dissolve a bit. This might take a few minutes so just proceed with step 2 in the mean time.
Combine all the dry ingredients together in a mixing bowl.
Add the water and yeast mixture to the dry ingredients.
Knead in a stand mixer with the dough hook for 10 min until you have a smooth elastic ball of dough that cleans out the mixer bowl. Alternatively you can do this by hand. In that case it will take you more like 20 min. I do not recommend attempting this with a hand held mixer because the dough will be quite stiff.
Place the dough in an oiled bowl and cover with cling film.
Let rise in a warm spot for approximately 1 hour or until the dough has doubled in size (I like to use a slightly warm oven, not hot!).
At this point you can either place the dough in the fridge overnight or continue immediately.
Take the dough out of the fridge and divide into 6 pieces. Shape each piece into a bagel and let sit on the counter loosely covered for 15 mins. In the video below you can see how a shape bagels.
In the mean time pre-heat your oven to 220 C and fill a large pot with water and start bringing it to a boil.
When the water is boiling and the bagels have rested for 15 mins start boiling them one by one, or more at the time, depending on the size of your pot. Boil each bagel for 2 min on each side.
Take them out of the water with a slotted spoon and put in the sesame seeds or other toppings of your choice and than onto a wire rack to cool. If not using any toppings just place them on the rack immediately.
When all the bagels are boiled place them on an oven tray.
Place a small oven safe bowl of hot water in the bottom of the oven. Slide the bagels into the oven and bake for 20-25 min until golden brown.
Take the bagels out of the oven and let cool on a wire rack.
All done!