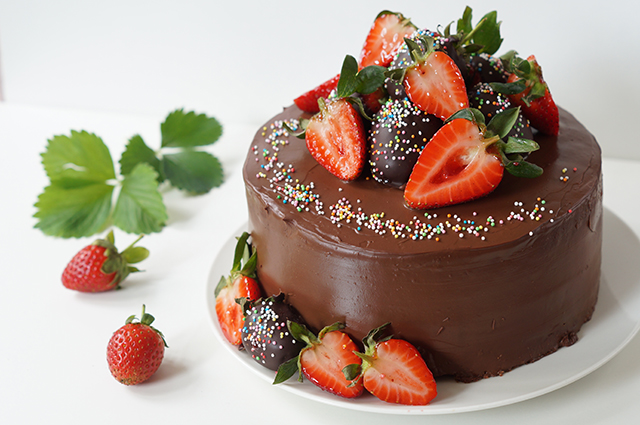 What if you know someone who loves chocolate and strawberries. And what if that someone asks you if you want to bake them a birthday cake? Well this is what happens. Chocolate and strawberries all the way. Strawberry jam? Sure! Chocolate dipped strawberries? Of course! More strawberries? Just pile it on!
Total time: 5 hours (including cooling). Things will be easier if you bake the cakes the night before assembling the cake.
Equipment: electric mixer, two 18 cm springform pans.
Ingredients
For the cakes (same cake as in my chocolate and raspberry cake)

6 eggs
200 g sugar
160 g flour
2 teaspoons baking powder
40 g cornstarch
For the filling and frosting
400 g strawberry jam
200 g strawberries (sliced)
200 g dark choclate
250 g heavy cream
For decorations
100 g strawberries
100 g dark chocolate (melted)
sprinkles
Directions
Bake the cakes
Preheat your oven to 160 C. Grease two 18 cm spring form pans and line the bottom with baking paper. If you have only one pan it is best to split the recipe in half and bake the cakes one by one.
Crack the eggs into a mixing bowl and beat until foamy.
Add the sugar to the eggs and continue beating on high speeds until it has increased in volume about 3 times and is a light yellow colour. This might take up to 5 minutes. It will be thick but not as stiff as egg whites would be.
In a separate bowl stir the flour, baking powder and cornstarch together.
Fold the dry ingredients into the eggs.
Bake for 30 minutes or until a skewer inserted in the centre comes out clean.
Let cool completely.
Prepare the ganache following directions here.
Assemble the cake
Level both cakes and cut them in have (I use a serrated knife and a ruler to get them level).
Place the bottom layer on the plate you want to serve the cake on.
Spread a layer of strawberry jam on top.
Place the next layer on. Spread a thin layer of ganache on and top with strawberry slices.
Place next cake layer on and spread this one with strawberry jam.
Stack the final cake layer on top.
Spread a thin layer of ganache all over the outside of the cake (a so called crumb coat). Put the cake in the fridge to chill for half and hour until the ganache is firm.
Spread the rest of the ganache over the outside of the cake and smooth out with a spatula.
Decorate
Dip some strawberries in the melted chocolate and place on a piece of baking paper to set. Sprinkle with sprinkles before the chocolate has set.
Cut some strawberries in half. Heat a bit of strawberry jam and brush it over the strawberry halves so that they will stay looking fresh.
Pile it all decoratively on top!