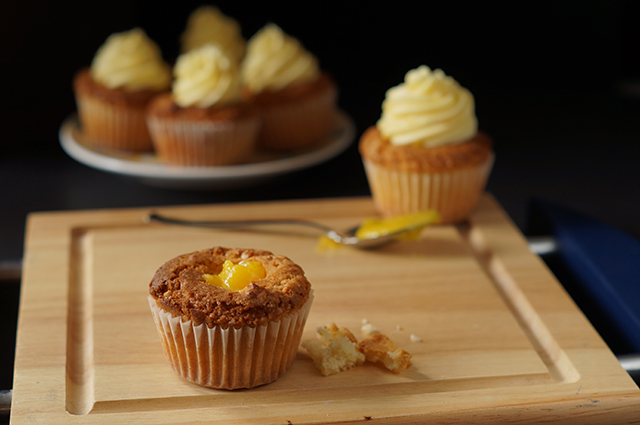 If it is made with olive oil it counts as a healthy food, right?
Makes 6 cupcakes. Preparation time: 2.5 hours (including cooling).  Special equipment: cupcake pan. In the lemon curd and the butter cream frosting the butter can be replaced with vegetable margarine to make a lactose free version. This recipe involves making your own lemon curd. Want to take a short cut? The lemon curd can be store bought.
Ingredients
For the cupcakes
1 egg
75 ml olive oil
125 g sugar
115 g flour
0.5 teaspoon baking powder
pinch of salt
juice of half a lemon
zest of half a lemon
For the lemon curd
2 egg yolks
60 g sugar
juice of 1 lemon
25 g of butter
pinch of salt
For the lemon butter cream
100 g butter (at room temperature)
75 g powdered sugar
50 g lemon curd
Directions
Make the cupcakes
Preheat your oven to 170 C.
Whisk egg, olive oil and sugar  together in a bowl until will blended and frothy.
Combine the flour, baking powder and salt in a bowl.
Add the dry ingredients to the wet ingredients and stir until combined.
Stir in the lemon juice and zest.
Grease your cupcake pan or line with cupcake liners.
Spoon the batter into the cupcake pan.
Bake in the preheated oven for 25 min or until a skewer inserted in the centre of one of the cupcakes comes out clean.
Let cupcakes cool completely.
Make the lemon curd
In a heavy saucepan combine the egg yolks, sugar, lemon juice, butter, salt and lemon zest. (Yes that is all ingredients indeed.)
Heat while stirring. Don't let the mixture boil because then it will curdle. So watch it while stirring and remove from the heat when you suspect it might be getting too hot. Heat until thickened and the curd covers the back of a spoon. This took me about 15 min.
Transfer to a boil and cover with cling film. Let cool before making the butter cream.
For the lemon butter cream
Start beating the butter until fluffy.
Mix in the powdered sugar.
Mix in the lemon curd. You will have some left over that will be used to fill the cupcakes.
It is ready when everything is thoroughly combined and smooth.
With a sharp knife cut a hole out of the centre of each cupcake. Spoon a bit of lemon curd into each hole. Spoon or pipe the butter cream decoratively onto the cupcakes and they are all finished!